Valentine's Day is just 3 days away and if you still haven't done your Valentine's Day shopping yet, then you are surely in a danger zone. You are already late and that's why you won't be in a frame of mind to sit down and think about the "likes and dislikes" of your lover or pressurize your brain to think about the wish list of your partner. So, at this 11th hour, what can you do to impress him/her?
Opting for some nice DIY gift would be a nice gift idea. But for that too, you firstly need certain stationery things and then lots of energy too. So, opting for an online gift delivery would be the best idea. And while looking for gifts online, you can rely mostly on the tried and tested gift ideas. These classic gifts like flowers, cakes, and chocolates would never ever fail to speak of your love! So, go for these following last minute Valentine gift ideas & enhance love in your life.
Red & Dark Pink Roses Box Arrangement: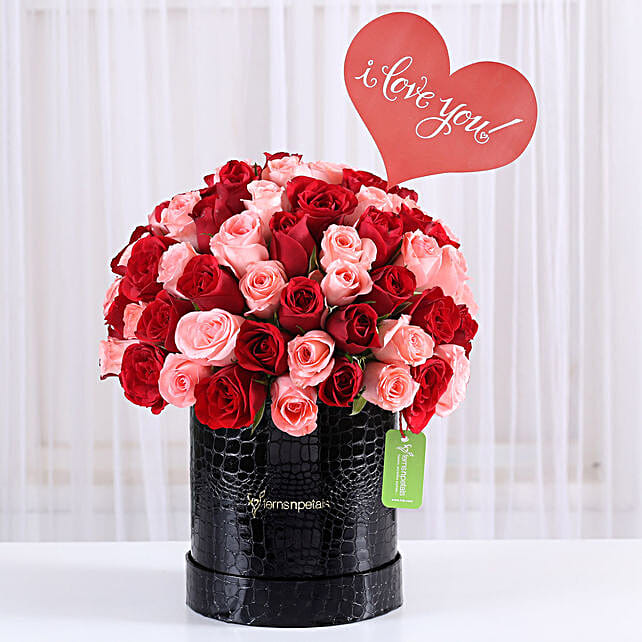 Red and pink is a killer color combo. One one hand, red symbolizes eternal love and on the other dark pink symbolizes deep appreciation for your lover. He/she would be truly elated with this stunning box arrangement of red and dark pink roses. It also comes with a cute "I Love You" tag. This box can be later used for storing knick-knacks or for further creative home décor purpose.
Check out this beautiful floral gift here: https://www.fnp.com/gift/red-dark-pink-roses-box-arrangement
Valentine Heart Shaped Cake:
The heart is the place where love originates and develops. Thus, this shape of hearts is quite famous in the world of Valentine's Day special gifts! When you are already late for your Valentine gift shopping, then sticking to a tasty cake would be advised because the best way to reach one's heart is through the tummy! Impress your sweetheart with a tasty, smooth, and good-looking cake. This gorgeous and delicious heart-shaped pink cake is available in vanilla, chocolate, truffle, pineapple, butterscotch, & black forest flavors. So, choose the favorite cake flavor of your BAE and surprise him/her!
Check out this delicious cake here: https://www.fnp.com/gift/valentine-heart-shaped-cake
Valentine Special Set Of 3 Green Plants: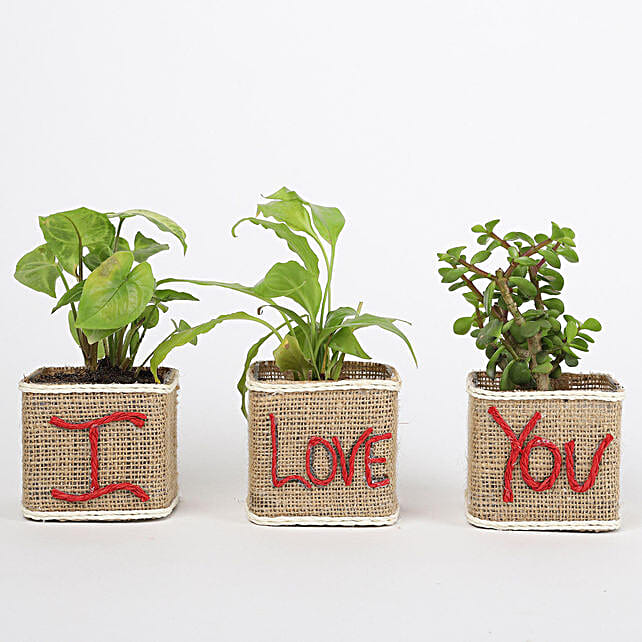 A special wish for Valentine's Day requires something unique and different – right? You can order this refreshing set of 3 plants using our next day delivery services. Thus, even when you realize that you are still to buy a nice gift on Valentine's Day eve (13th February), you can still place an order and surprise your partner. This set consists of a Jade Plant, Syngonium Plant, and Peace Lily Plant – all three of them are great at removing toxins from the atmosphere. The plant vases have a jute cover that says I LOVE YOU!
Check out this refreshing gift here: https://www.fnp.com/gift/valentine-special-set-of-3-green-plants
Love Wife Ferrero Rocher Chocolates Vase Arrangement: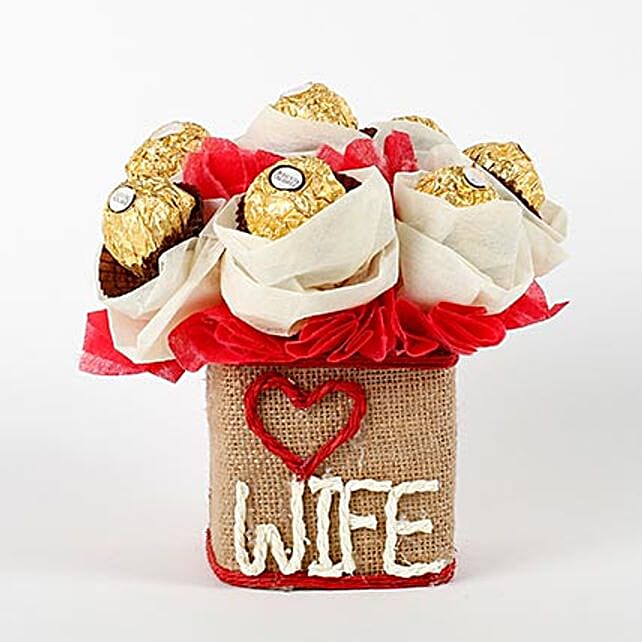 Cuteness has no limit and no certain definition! This is a cute small vase that is decorated with Ferrero Rocher chocolates. Red and white papers are used artistically around the chocolates to make them look like flowers. Red and white rassi are used to design the heart-shape and write "wife" on the natural jute cover that is used on the vase.
Check out this romantic gift here: https://www.fnp.com/gift/love-wife-ferrero-rocher-chocolates-vase-arrangement
Some One Special: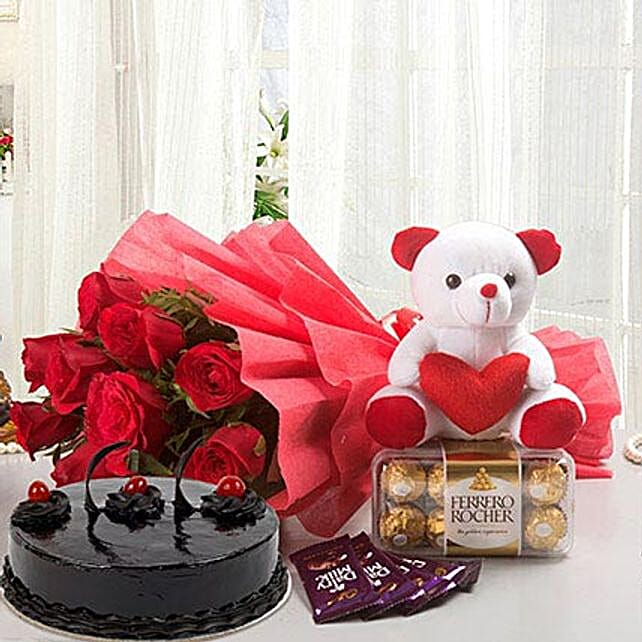 This is the most romantic Valentine gift you can get for your sweetheart. It has all elements of love. The bouquet of ravishing red roses showcases eternal love & romance while the delectable chocolate cake suggests the sweetness in your relationship. A red & white teddy bear depicts the tenderness of your heart while the chocolates (Ferrero Rocher & Cadbury) signifies the crunchy & smooth road of love! This special combo gift would sum up all your feelings of love for your partner!
Check this mesmerizing product here: https://www.fnp.com/gift/some-one-special
Express Your Love Combo: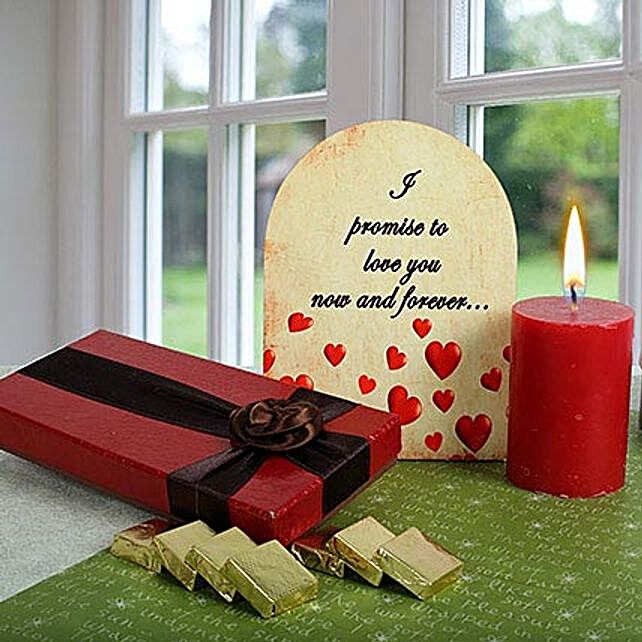 Whether you are personally there with a gift or getting an online gift delivery – your gift should speak of the deep love and assure your lover of a promising future. This gift is locked with love, sweetness, and hope. Your sweetheart would feel the warmth of your love with this awesome gift combo. The assorted chocolates, red candle, and a tabletop all are designed to enhance the romance in your relationship. The red candle is a symbol of hope & positivity and the red color suggests eternal romance. The tabletop reads – I promise to love you now & forever – and this reassures your lover to your partner. Your lover would enjoy this gift!
Check out this awesome product here: https://www.fnp.com/gift/express-your-love-combo
Related Blogs –