check Gift has been added to your cart.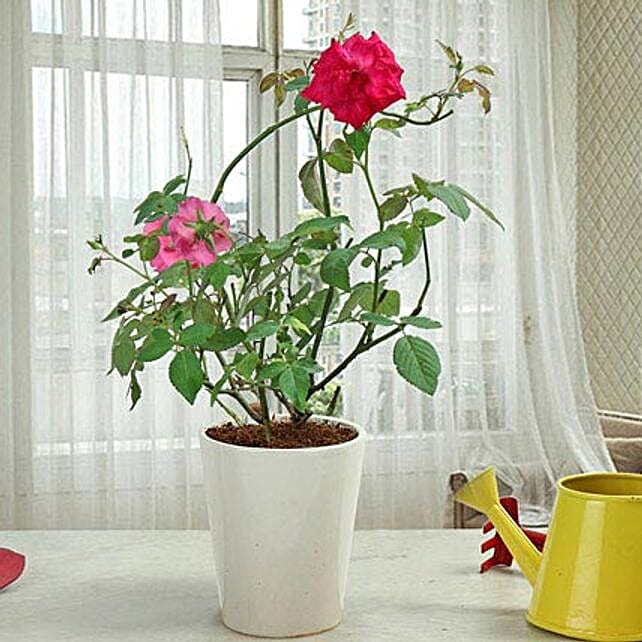 info_outline
Prices may vary as per exchange rate.
Product Details:
Plant Name- Rose Plant (Pink)
Plant Type- Flowering Plant
Plant Placement- Outdoors
Plant Height- Upto 12 inches
Ceramic or Unbreakable Fiber Pot- 5.5 inches
Rose Plants Trivia:
Origin- The rose is (according to fossil evidence) 35 million years old. Garden cultivation of roses began some 5,000 years ago, probably in China.
Did you know a rose bush can grow quite tall? The tallest ever recorded rose bush stands at over 23 feet (7 meters) tall!
Please Note:
Since plants are natural products, the number of buds in a flowering plant will vary from plant to plant. The flowers can be fully bloomed, semi-bloomed or in bud stage.
The vase can be reused later on as a decorative item or for storing your small knick knacks.
Color of the Vase may vary as per availability.
This product will be Hand Delivered to your doorstep.
The image displayed is indicative in nature. Actual product may vary in shape or design as per the availability.
Flowers if blossomed in plant may be delivered in fully bloomed, semi-bloomed or bud stage.
The chosen delivery time is an estimate and depends on the availability of the product and the destination to which you want the product to be delivered.
This product is hand delivered and will not be delivered along with courier products.
As the size of the plant, number of leaves and color of flowers depend on local availability, so it may vary at time of the delivery.
Please take out the plant from the box immediately after receiving and water it as required.
Water the soil, not the leaves and flowers.
Keep it away from direct sunlight. Avoid placing plants in trouble spots, such as near heat or air conditioning ducts.
What customers are saying
"I strongly recommend Fern N Petals."
11/10/2018,08:44
Delivered at: India, Near PKC hospital, Mumbai
Occasion: birthday
"Good work keep it up"
30/09/2018,07:34
Delivered at: Officers Colony, kharmanghat,, Hyderabad, hyderabad
Occasion: birthday
"Appreciate the service"
28/09/2018,10:21
Delivered at: happy home public school, Delhi
Occasion:
"Very nice"
09/09/2018,06:39
Delivered at: Behind Mayuri Sagari Hotel, bangalore
Occasion: birthday
"So this is first time i ordered from FNP, and its totally worth it.. Cake was fresh and yummy and The Rose plant was also in good condition."
28/06/2018,10:25
Delivered at: Avenue, MRC Nagar, Chennai, r-a-puram-chennai
Occasion: birthday
"Nice"
26/04/2018,09:38
Delivered at: nagar colony, kukatpally, Hyderabad, nizampet-hyderabad
Occasion: birthday
"Nice service and I'm quite satisfied with the product."
22/04/2018,09:20
Delivered at: Avenue,, Greenglen Layout, Bellandur, bangalore
Occasion: birthday
"Thank you for the photos, delivery updates and signature pad for person that received it!! Very happy!!!!"
13/04/2018,01:28
Delivered at: 123 Huda Sector 23 , gurgaon
Occasion: birthday
"Nice"
16/03/2018,10:19
Delivered at: Iron and Steel shop, kolkata
Occasion: Get Well Soon
100% Safe and Secure Payments.