check Gift has been added to your cart.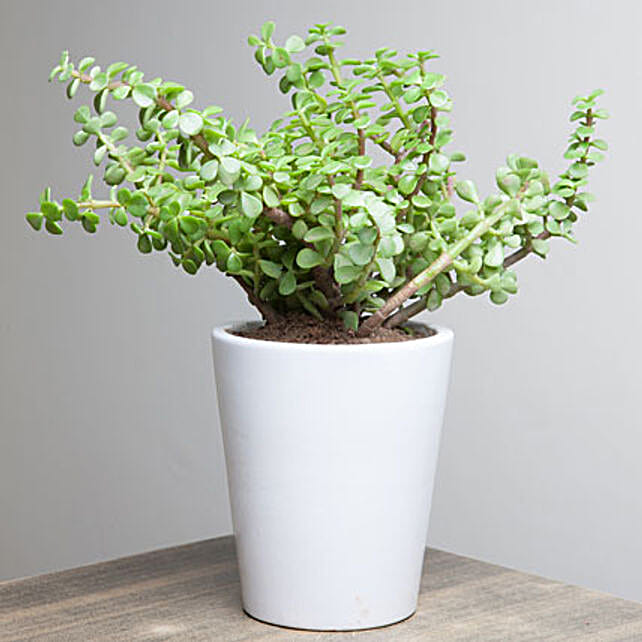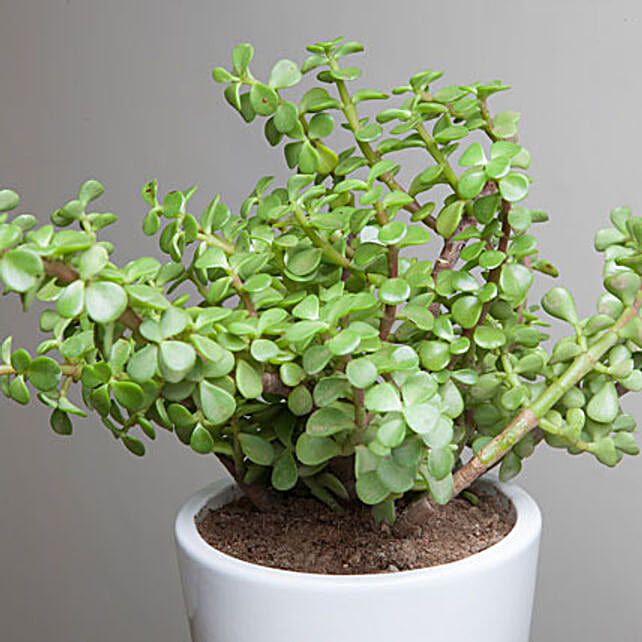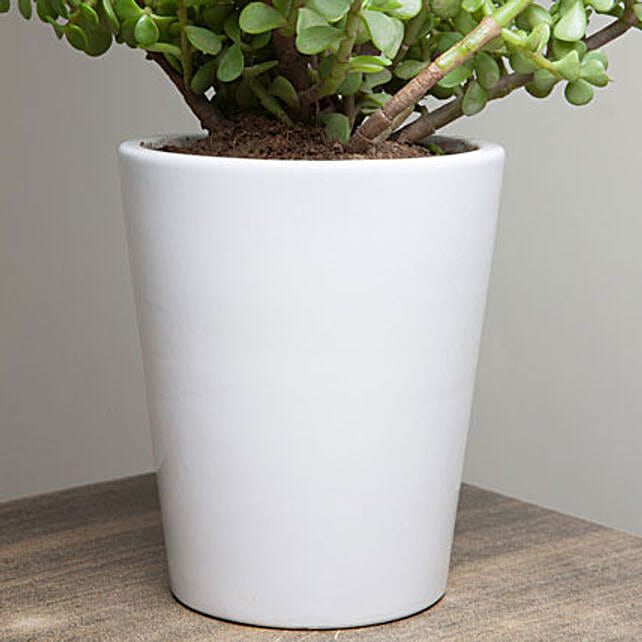 info_outline
Prices may vary as per exchange rate.
Product Details:
Plant Name- Jade Plant
Plant Type- Succulent
Plant Placement- Indoors & Outdoors Both
Plant Height- Upto 10 inches
Ceramic or Unbreakable Fiber Pot- 5.5 inches
Jade Trivia:
Origin- It originates from South Africa, but it can be found in temperate regions all over the world today.
Jade Plant is a perennial plant. It has a life span of more than 2 years. It is a low-maintenance succulent with delicate pink or white flowers that bloom in the spring.
Please Note:
The vase can be reused later on as a decorative item or for storing your small knick knacks.
Color of the Vase may vary as per availability.
This product will be Hand Delivered to your doorstep.
The image displayed is indicative in nature. Actual product may vary in shape or design as per the availability.
Flowers if blossomed in plant may be delivered in fully bloomed, semi-bloomed or bud stage.
The chosen delivery time is an estimate and depends on the availability of the product and the destination to which you want the product to be delivered.
This product is hand delivered and will not be delivered along with courier products.
As the size of the plant, number of leaves and color of flowers depend on local availability, so it may vary at time of the delivery.
Please take out the plant from the box immediately after receiving and water it as required.
Water the soil, not the leaves and flowers.
Keep it away from direct sunlight. Avoid placing plants in trouble spots, such as near heat or air conditioning ducts.
What customers are saying
"It was a good experience! Thanks."
19/10/2018,04:24
Delivered at: Palimala Road Bandra West, Mumbai
Occasion: Birthday
"Yes!! The top border of the pot used is rough and unfinished which could cut one s hand as it sharp too"
01/10/2018,09:33
Delivered at: Bandra West, Dmonte park, Mumbai
Occasion:
"Keep up the good work!!!"
07/08/2018,09:10
Delivered at: -Tech park,Sector 49, Gurugram, gurgaon
Occasion: house-warming
"Packaging can be improved futher to take care of plants."
07/08/2018,02:26
Delivered at: Stadium Road, Motera, Sabarmati, ahmedabad
Occasion: birthday
"Timely delivery and beautiful product. Would appreciate if you can economise the cost upto Rs 500 max for plants."
16/06/2018,11:13
Delivered at: Garden, Kalyani Nagar, Pune, pune
Occasion: birthday
"Good product and good experience"
13/04/2018,06:17
Delivered at: Salimpur Lane Dhakuria, Kolkata, kolkata
Occasion: birthday
"Overall satisfied with the delivery and quality."
09/04/2018,10:28
Delivered at: 901, Kumar Shantiniketan, Pashan,, Pune
Occasion: birthday
"Best service"
08/04/2018,07:52
Delivered at: samaj road uttam nagar, Uttam-nagar-delhi
Occasion: birthday
"it was nice."
20/03/2018,10:14
Delivered at: B. Narayanapura, Mahadevapura, Bengaluru, bangalore
Occasion: birthday
100% Safe and Secure Payments.