check Gift has been added to your cart.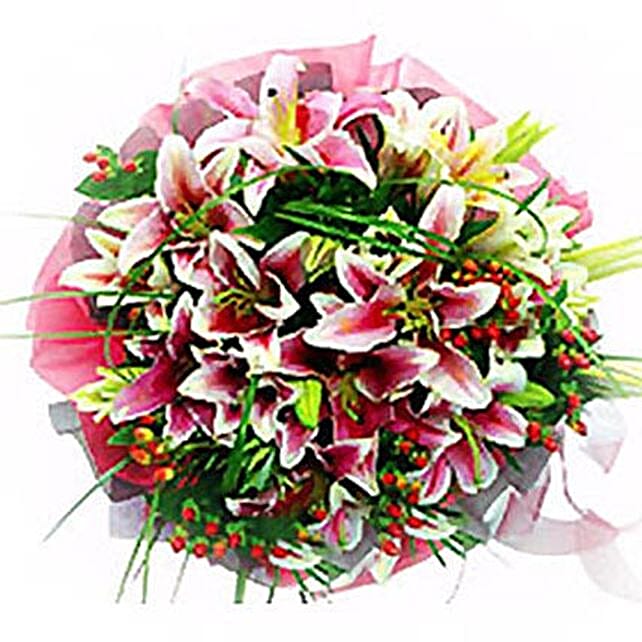 info_outline
Prices may vary as per exchange rate.
This exceptional bouquet of star gazer lilies along with fillers is sure to impress anyone within no time. It signifies devotion, purity, beauty, motherhood, rebirth and other such emotions in a fantastic manner. Gift this excellent bouquet to your dear ones to convey your best wishes for any special occasion in a fascinating manner.
When your flowers arrive, just trim the stems and add water.
Re-cut 1-2" of the stems at a 45 degree angle.
Use a clean vase and clean water.
All flowers benefit from a daily mist of water.
Remove the leaves below the water line but do not remove all leaves along the stem length.
Check the water level daily and replenish as needed.
Don't place flowers in direct sunlight or near any other source of excessive heat.
All flowers benefit from a daily mist of water.
Enjoy your flowers!
The image displayed is indicative in nature. Actual product may vary in shape or design as per the availability.
The chosen delivery date is an estimate and depends on the availability of the product and the destination to which you want the product to be delivered.
We will be able to attempt delivery of your order only once. The delivery cannot be redirected to any other address.
Occasionally, substitution is necessary due to temporary and/or regional unavailability issues.
100% Safe and Secure Payments.

FreeMarker template error: Java method "org.ofbiz.widget.renderer.ScreenRenderer.render(String)" threw an exception when invoked on org.ofbiz.widget.renderer.ScreenRenderer object "org.ofbiz.widget.renderer.ScreenRenderer@45b3242"; see cause exception in the Java stack trace. ---- FTL stack trace ("~" means nesting-related): - Failed at: ${screens.render("component://fnp/wid... [in template "component://fnpmobile-bb/webapp/fnpmobile-bb/includes/closehtmlbody.ftl" at line 60, column 17] ---- Java stack trace (for programmers): ---- freemarker.core._TemplateModelException: [... Exception message was already printed; see it above ...] at freemarker.ext.beans._MethodUtil.newInvocationTemplateModelException(_MethodUtil.java:311) at freemarker.ext.beans._MethodUtil.newInvocationTemplateModelException(_MethodUtil.java:284) at freemarker.ext.beans.OverloadedMethodsModel.exec(OverloadedMethodsModel.java:68) at freemarker.core.MethodCall._eval(MethodCall.java:62) at freemarker.core.Expression.eval(Expression.java:78) at freemarker.core.Expression.evalAndCoerceToString(Expression.java:82) at freemarker.core.DollarVariable.accept(DollarVariable.java:41) at freemarker.core.Environment.visit(Environment.java:324) at freemarker.core.MixedContent.accept(MixedContent.java:54) at freemarker.core.Environment.visitByHiddingParent(Environment.java:345) at freemarker.core.ConditionalBlock.accept(ConditionalBlock.java:48) at freemarker.core.Environment.visit(Environment.java:324) at freemarker.core.MixedContent.accept(MixedContent.java:54) at freemarker.core.Environment.visit(Environment.java:324) at freemarker.core.Environment.process(Environment.java:302) at org.ofbiz.base.util.template.FreeMarkerWorker.renderTemplate(FreeMarkerWorker.java:260) at org.ofbiz.widget.model.HtmlWidget.renderHtmlTemplate(HtmlWidget.java:210) at org.ofbiz.widget.model.HtmlWidget$HtmlTemplate.renderWidgetString(HtmlWidget.java:286) at org.ofbiz.widget.model.HtmlWidget.renderWidgetString(HtmlWidget.java:164) at org.ofbiz.widget.model.ModelScreenWidget$PlatformSpecific.renderWidgetString(ModelScreenWidget.java:1319) at org.ofbiz.widget.model.ModelScreenWidget.renderSubWidgetsString(ModelScreenWidget.java:98) at org.ofbiz.widget.model.ModelScreenWidget$Section.renderWidgetString(ModelScreenWidget.java:280) at org.ofbiz.widget.model.ModelScreenWidget.renderSubWidgetsString(ModelScreenWidget.java:98) at org.ofbiz.widget.model.ModelScreenWidget$Section.renderWidgetString(ModelScreenWidget.java:280) at org.ofbiz.widget.model.ModelScreen.renderScreenString(ModelScreen.java:164) at org.ofbiz.widget.model.ScreenFactory.renderReferencedScreen(ScreenFactory.java:211) at org.ofbiz.widget.model.ModelScreenWidget$DecoratorScreen.renderWidgetString(ModelScreenWidget.java:860) at org.ofbiz.widget.model.ModelScreenWidget.renderSubWidgetsString(ModelScreenWidget.java:98) at org.ofbiz.widget.model.ModelScreenWidget$Section.renderWidgetString(ModelScreenWidget.java:280) at org.ofbiz.widget.model.ModelScreen.renderScreenString(ModelScreen.java:164) at org.ofbiz.widget.renderer.ScreenRenderer.render(ScreenRenderer.java:136) at org.ofbiz.widget.renderer.ScreenRenderer.render(ScreenRenderer.java:98) at org.ofbiz.widget.renderer.macro.MacroScreenViewHandler.render(MacroScreenViewHandler.java:157) at org.ofbiz.webapp.control.RequestHandler.renderView(RequestHandler.java:1078) at org.ofbiz.webapp.control.RequestHandler.doRequest(RequestHandler.java:708) at org.ofbiz.webapp.control.ControlServlet.doGet(ControlServlet.java:213) at javax.servlet.http.HttpServlet.service(HttpServlet.java:686) at javax.servlet.http.HttpServlet.service(HttpServlet.java:791) at org.apache.catalina.core.ApplicationFilterChain.internalDoFilter(ApplicationFilterChain.java:231) at org.apache.catalina.core.ApplicationFilterChain.doFilter(ApplicationFilterChain.java:166) at org.apache.tomcat.websocket.server.WsFilter.doFilter(WsFilter.java:52) at org.apache.catalina.core.ApplicationFilterChain.internalDoFilter(ApplicationFilterChain.java:193) at org.apache.catalina.core.ApplicationFilterChain.doFilter(ApplicationFilterChain.java:166) at com.fnp.webapp.FNPPageTypeFilter.doFilter(FNPPageTypeFilter.java:33) at org.apache.catalina.core.ApplicationFilterChain.internalDoFilter(ApplicationFilterChain.java:193) at org.apache.catalina.core.ApplicationFilterChain.doFilter(ApplicationFilterChain.java:166) at org.ofbiz.webapp.control.ContextFilter.doFilter(ContextFilter.java:325) at org.apache.catalina.core.ApplicationFilterChain.internalDoFilter(ApplicationFilterChain.java:193) at org.apache.catalina.core.ApplicationFilterChain.doFilter(ApplicationFilterChain.java:166) at com.fnp.webapp.FNPUrlFilter.doFilter(FNPUrlFilter.java:305) at org.apache.catalina.core.ApplicationFilterChain.internalDoFilter(ApplicationFilterChain.java:193) at org.apache.catalina.core.ApplicationFilterChain.doFilter(ApplicationFilterChain.java:166) at org.apache.catalina.core.StandardWrapperValve.invoke(StandardWrapperValve.java:198) at org.apache.catalina.core.StandardContextValve.invoke(StandardContextValve.java:96) at org.apache.catalina.authenticator.AuthenticatorBase.invoke(AuthenticatorBase.java:478) at org.apache.catalina.core.StandardHostValve.invoke(StandardHostValve.java:140) at org.apache.catalina.valves.ErrorReportValve.invoke(ErrorReportValve.java:80) at org.apache.catalina.core.StandardEngineValve.invoke(StandardEngineValve.java:87) at org.apache.catalina.valves.AbstractAccessLogValve.invoke(AbstractAccessLogValve.java:624) at org.ofbiz.catalina.container.CrossSubdomainSessionValve.invoke(CrossSubdomainSessionValve.java:73) at org.apache.catalina.connector.CoyoteAdapter.service(CoyoteAdapter.java:342) at org.apache.coyote.ajp.AjpProcessor.service(AjpProcessor.java:486) at org.apache.coyote.AbstractProcessorLight.process(AbstractProcessorLight.java:66) at org.apache.coyote.AbstractProtocol$ConnectionHandler.process(AbstractProtocol.java:868) at org.apache.tomcat.util.net.NioEndpoint$SocketProcessor.doRun(NioEndpoint.java:1455) at org.apache.tomcat.util.net.SocketProcessorBase.run(SocketProcessorBase.java:49) at java.util.concurrent.ThreadPoolExecutor.runWorker(ThreadPoolExecutor.java:1149) at java.util.concurrent.ThreadPoolExecutor$Worker.run(ThreadPoolExecutor.java:624) at org.apache.tomcat.util.threads.TaskThread$WrappingRunnable.run(TaskThread.java:61) at java.lang.Thread.run(Thread.java:748) Caused by: org.ofbiz.widget.renderer.ScreenRenderException: Error rendering screen [component://fnp/widget/CommonScreens.xml#omniture]: java.lang.IllegalArgumentException: Error running script at location [component://fnp/webapp/fnp/WEB-INF/actions/catalog/breadcrumbs.groovy]: org.ofbiz.service.ExecutionServiceException: org.apache.solr.client.solrj.SolrServerException: IOException occured when talking to server at: http://internal-b3-solrslave-elb-1014828463.ap-south-1.elb.amazonaws.com:8983/solr/fnpproducts (Error running script at location [component://fnp/webapp/fnp/WEB-INF/actions/catalog/breadcrumbs.groovy]: org.ofbiz.service.ExecutionServiceException: org.apache.solr.client.solrj.SolrServerException: IOException occured when talking to server at: http://internal-b3-solrslave-elb-1014828463.ap-south-1.elb.amazonaws.com:8983/solr/fnpproducts) at org.ofbiz.widget.model.ModelScreen.renderScreenString(ModelScreen.java:179) at org.ofbiz.widget.renderer.ScreenRenderer.render(ScreenRenderer.java:136) at org.ofbiz.widget.renderer.ScreenRenderer.render(ScreenRenderer.java:98) at sun.reflect.GeneratedMethodAccessor119.invoke(Unknown Source) at sun.reflect.DelegatingMethodAccessorImpl.invoke(DelegatingMethodAccessorImpl.java:43) at java.lang.reflect.Method.invoke(Method.java:498) at freemarker.ext.beans.BeansWrapper.invokeMethod(BeansWrapper.java:1458) at freemarker.ext.beans.ReflectionCallableMemberDescriptor.invokeMethod(ReflectionCallableMemberDescriptor.java:52) at freemarker.ext.beans.MemberAndArguments.invokeMethod(MemberAndArguments.java:48) at freemarker.ext.beans.OverloadedMethodsModel.exec(OverloadedMethodsModel.java:62) ... 67 more Caused by: java.lang.IllegalArgumentException: Error running script at location [component://fnp/webapp/fnp/WEB-INF/actions/catalog/breadcrumbs.groovy]: org.ofbiz.service.ExecutionServiceException: org.apache.solr.client.solrj.SolrServerException: IOException occured when talking to server at: http://internal-b3-solrslave-elb-1014828463.ap-south-1.elb.amazonaws.com:8983/solr/fnpproducts at org.ofbiz.base.util.ScriptUtil.executeScript(ScriptUtil.java:348) at org.ofbiz.base.util.ScriptUtil.executeScript(ScriptUtil.java:324) at org.ofbiz.widget.model.AbstractModelAction$Script.runAction(AbstractModelAction.java:632) at org.ofbiz.widget.model.AbstractModelAction.runSubActions(AbstractModelAction.java:141) at org.ofbiz.widget.model.ModelScreenWidget$Section.renderWidgetString(ModelScreenWidget.java:273) at org.ofbiz.widget.model.ModelScreen.renderScreenString(ModelScreen.java:164) ... 76 more Caused by: org.ofbiz.service.ExecutionServiceException: org.apache.solr.client.solrj.SolrServerException: IOException occured when talking to server at: http://internal-b3-solrslave-elb-1014828463.ap-south-1.elb.amazonaws.com:8983/solr/fnpproducts at sun.reflect.GeneratedConstructorAccessor319.newInstance(Unknown Source) at sun.reflect.DelegatingConstructorAccessorImpl.newInstance(DelegatingConstructorAccessorImpl.java:45) at java.lang.reflect.Constructor.newInstance(Constructor.java:423) at org.codehaus.groovy.reflection.CachedConstructor.invoke(CachedConstructor.java:77) at org.codehaus.groovy.runtime.callsite.ConstructorSite$ConstructorSiteNoUnwrapNoCoerce.callConstructor(ConstructorSite.java:102) at org.codehaus.groovy.runtime.callsite.AbstractCallSite.callConstructor(AbstractCallSite.java:190) at org.ofbiz.service.engine.GroovyBaseScript.runService(GroovyBaseScript.groovy:41) at org.ofbiz.service.engine.GroovyBaseScript$runService$0.callCurrent(Unknown Source) at breadcrumbs.run(breadcrumbs.groovy:93) at org.ofbiz.base.util.GroovyUtil.runScriptAtLocation(GroovyUtil.java:173) at org.ofbiz.base.util.ScriptUtil.executeScript(ScriptUtil.java:342) ... 81 more