check Gift has been added to your cart.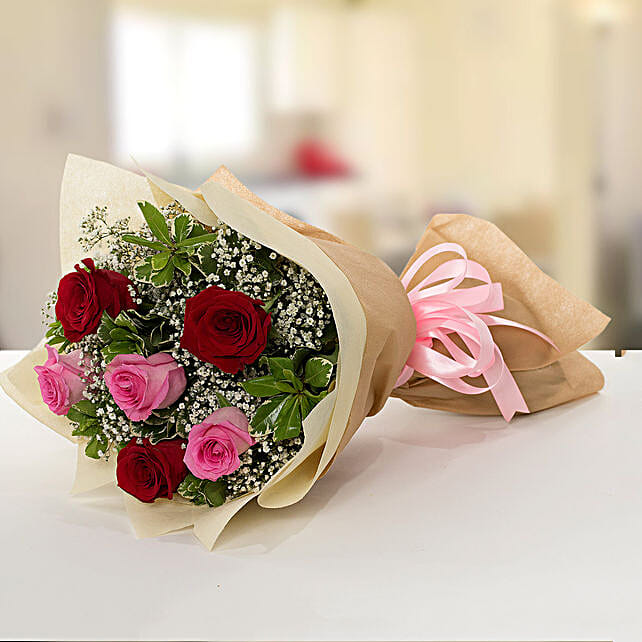 info_outline
Prices may vary as per exchange rate.
keyboard_arrow_right
Small
Stolen Kisses 6
Your Gift Contains:
Bouquet of 3 Pink and 3 Red Roses
Red and pink roses in one single packaging means love is overloaded here. Get this intensely beautiful bouquet of roses to the right person. Some seasonal fillers are also put in to make your bouquet look fuller. So, get it right away for the love of your life.
The image displayed is only indicative in nature. Although we make 100% efforts to match the image displayed, the actual product delivered may vary in shape or design as per the availability.
A majority of our orders are delivered on time as per the time slot selected. This is not met in very rare cases where the situation is beyond our control viz., traffic congestion enroute, remote address for delivery, etc.
Since flowers are perishable in nature, attempt for delivery would be done only once.
Flowers may be delivered in fully bloomed, semi-bloomed or bud stage.
The delivery cannot be redirected to any other address once the order is prepared for delivery.
Although we try not to, occasionally substitution of flowers are done due to temporary and/or regional unavailability issues.
Please be noted that we may have to do this without informing you because we give utmost importance to delivery on time since most of our orders are gifts for a certain occasion.
When your flowers arrive in a bunch form, remove the packing and allow them to breathe.
Cut 1-2 inches of the stems, remove the leaves below the water line and put the flowers in a vase with clean water.
Once in 24 hrs, please cut about 2 cms of the bottom of each flower stem and change the water.
When your flowers arrive in an arrangement form i.e., flowers are fixed on to a floral foam, then you just need to ensure that the foam remains wet throughout the day.
For this just pour water on the foam so that the foam is completely hydrated. In the case of an arrangement, you don't need to cut the stems.
Keep flowers away from sunlight, heating or cooling vents, direct drafts from a ceiling fan and the tops of televisions or radiators.
Enjoy your flowers!
What customers are saying
"Thank you.Keep up the great work!"
29/11/2018,02:34
Delivered at: C/O Karina Dubai UAE26721, dubai
Occasion: birthday
"The cake was so tasty . I am so impressed with the flower arrangement."
17/09/2018,03:58
Delivered at: Khalidiya Urgent Care Center2749, Abu Dhabi
Occasion: birthday
100% Safe and Secure Payments.