check Gift has been added to your cart.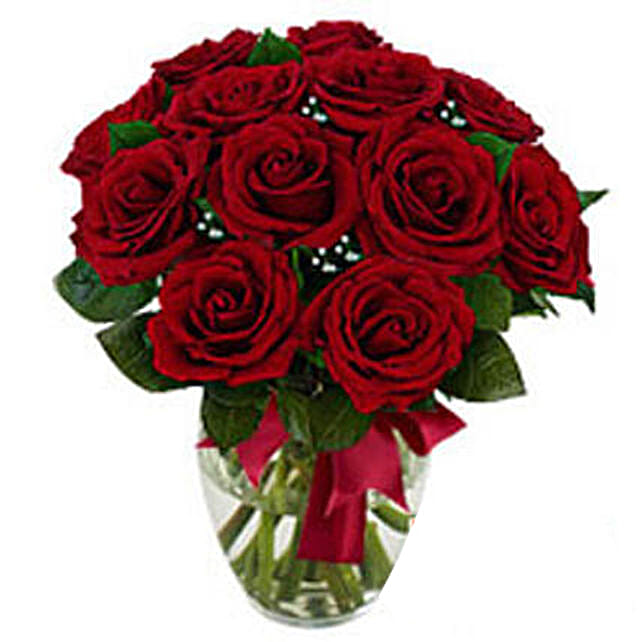 info_outline
Prices may vary as per exchange rate.
Your Flower Contains :-
One Dozen Red Rose Bouquet.
Vase is not Included.
A dozen roses is always special, but receiving a dozen red roses is the epitome of love and romance! The number 12 is packed with meaning and symbolism, going back to ancient times. 12 red roses signify a never ending love that lasts the whole year, and beyond. 12 is an important number; from the amount of hours in a day to the 12 individual zodiac signs. No matter where you are in the world, a dozen red roses is a timeless way to show love and affection.
The image displayed is indicative in nature. Actual product may vary in shape or design as per the availability.

Flowers may be delivered in fully bloomed, semi-bloomed or bud stage.

The chosen delivery date is an estimate and depends on the availability of the product and the destination to which you want the product to be delivered.

Since flowers are perishable in nature, we will be able to attempt delivery of your order only once. The delivery cannot be redirected to any other address.

Flowers might be delivered separately from cakes and they cannot be delivered along with other courier products.

We do not deliver on Public Holidays.

Occasionally, substitution of flowers is necessary due to temporary and/or regional unavailability issues.
When your flowers arrive, just trim the stems and add water.

Re-cut 1-2" of the stems at a 45 degree angle.

Use a clean vase and clean water.

Remove the leaves below the water line but do not remove all leaves along the stem length.

Check the water level daily and replenish as needed.

Don't place flowers in direct sunlight or near any other source of excessive heat.

All flowers benefit from a daily mist of water.

Enjoy your flowers!
What customers are saying
"All my orders were delivered in time.I am extremely happy with your services.good luck!!"
04/11/2018,10:19
Delivered at: Waterford Drive, Sunovian Pharmaceutical1753, marlborough, ma
Occasion: love-n-romance
"Amazing work"
26/10/2018,03:34
Delivered at: 7902 Chianti Way Chattanooga37421, Chattanooga, Tn
Occasion: Birthday
"Really it's beyond expectation.. Loved rose bouquet.. It was so beautiful..Thank u so much!"
17/10/2018,03:45
Delivered at: DRIVE LANCASTER PA 1760117601, Lancaster, pa
Occasion: birthday
"Had awesome experience"
13/09/2018,11:00
Delivered at: LN, UNIT B-315, 84070, Sandy, UT
Occasion: birthday
"The recipient was overjoyed and said the roses were absolutely beautiful. Thank you."
10/09/2018,07:01
Delivered at: 94TH COURT OCALA FL34481-4602, Ocala, Fl
Occasion: birthday
"Though our loved ones are far far away, Fernsnpetals make them feel so close to us by sending the gifts on time."
07/08/2018,10:08
Delivered at: Gravel Brook Ct Cary27519, North Carolina
Occasion: anniversary
"Great service"
07/06/2018,03:36
Delivered at: 4125 Prestwick XING, 27106, Winston-Salem, NC
Occasion: birthday
"Great"
02/06/2018,02:02
Delivered at: 2040 Calle De Primavera95054, Santa Clara, CA
Occasion: anniversary
"Good service"
23/04/2018,12:16
Delivered at: 37312,Vernon Drive,Sterling Heights48310, Michigan
Occasion: best-of-luck
"I had a great experience .."
01/08/2017,12:00
Delivered at: 2579,50th street,Woodside., 11377, New York
Occasion: _NA_
100% Safe and Secure Payments.