check Gift has been added to your cart.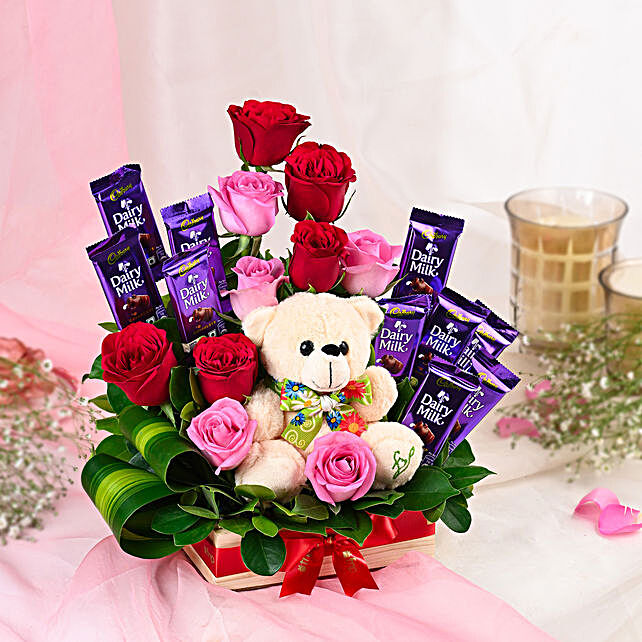 info_outline
Prices may vary as per exchange rate.
Your Gift Contains:
Teddy Bear (Height 6 inches)
Red Roses - 5
White Roses - 5
Cadbury Dairy Milk Chocolates - 10 (12.5 grams each)
Cane Basket (Diameter 9 Inches)
Want to surprise your loved ones with a special gift hamper? Be it their birthdays or any other occasions, you can present this hamper to show your love. It contains a cute teddy bear, white and red roses and cadbury dairy milk chocolates in a cane basket.
The image displayed is indicative in nature. Actual product may vary in shape or design as per the availability.
The chosen delivery date is an estimate and depends on the availability of the product and the destination to which you want the product to be delivered.
We will be able to attempt delivery of your order only once. The delivery cannot be redirected to any other address.
Occasionally, substitution is necessary due to temporary and/or regional unavailability issues.
Store your chocolates in the refrigerator. If they are exposed to high temperatures, they may begin to soften, compromising the appearance and flavor.
Please refer to the expiration date on the package and consume your chocolates before that.
When your flowers arrive, just trim the stems and add water. Re-cut 1-2" of the stems at a 45 degree angle.
Use a clean vase and clean water.
Remove the leaves below the water line but do not remove all leaves along the stem length.
Check the water level daily and replenish as needed.
Don't place flowers in direct sunlight or near any other source of excessive heat.
All flowers benefit from a daily mist of water.
Enjoy your flowers!
Keep your stuffed friends looking (and smelling!) their best by always hand washing them, using a mild detergent. Never put them in a washing machine.
You can also get them dry cleaned.
They should be allowed to air dry outside.
What customers are saying
i
iWontBeSad-IfUCantGuessMe
"Really pleased by the timely delivery of items."
06/11/2018,11:40
Delivered at: East,, Near W.E.H. Metro, mumbai
Occasion:
"Nice"
06/11/2018,02:11
Delivered at: No.12, Mohinikunj, Mahmoorganj, Varanasi, sigra-varanasi
Occasion: birthday
"Everything was in order. Thank You It was really surprise gift"
06/11/2018,12:09
Delivered at: TO KEM HOSPITAL, PAREL,, mumbai
Occasion: Birthday
"All good"
05/11/2018,09:23
Delivered at: road, Mumbai-400077, Ghatkopar East, mumbai
Occasion: Deepavali
"On time delivery !!!"
04/11/2018,12:09
Delivered at: Pantheon Road, Egmore, Egmore, chennai
Occasion: congratulations
"A little bit costly. Would be much more happier if it was a bit cheaper."
03/11/2018,12:51
Delivered at: Road,A-zone,Durgapur-713204, West Bengal 713204, bardhaman
Occasion: birthday
"Awesome"
03/11/2018,06:59
Delivered at: NOIDA,, Uttar Pradesh 201009, ghaziabad
Occasion: birthday
"Good job"
03/11/2018,01:52
Delivered at: Next to Oxford College, bangalore
Occasion: birthday
"Good and timely service."
02/11/2018,05:41
Delivered at: East, Near TV Tower, Thane
Occasion: birthday
"The given size and the picture was not same."
02/11/2018,11:01
Delivered at: 55, Near Huda Market,, gurgaon
Occasion: birthday
"Product cost is high."
01/11/2018,09:11
Delivered at: for ladies, Konappana agrahara, Bangalore
Occasion: birthday
"Fantastic delivery.. happy with fnp"
01/11/2018,02:04
Delivered at: City, Pune- 411 028, pune
Occasion: birthday
100% Safe and Secure Payments.